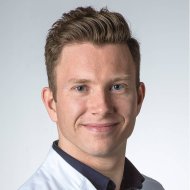 Anders Hougaard
Institution:
Danish Headache Center, Glostrup
Biography
Anders Hougaard, MD, PhD, is a medical doctor and post-doctoral researcher at the Danish Headache Center, Department of Neurology, Copenhagen University Hospital, Denmark.
Anders has been active in clinical headache research since 2009 and completed his PhD in Neuroscience on the topic of advanced magnetic resonance imaging investigations in migraine with aura in 2014 under the supervision of professors Messoud Ashina and Jes Olesen.
His current main research interests include the pathophysiology of migraine (in particular migraine aura), neuroimaging methods in headache (MRI, fMRI, SPECT, PET), and headache trigger factors.
Anders has currently authored and/or co-authored 52 peer-reviewed publications and co-authored 2 books on headache topics. H-index 19. While continuing his career in clinical neurology, headache medicine, and headache research, Anders is a lecturer on headache pathophysiology in the Master of Headache Disorders programme at the University of Copenhagen.
Disclosures
Honoraria for lecturing from Allergan, Novartis, and Teva. Honoraria for serving on the scientific advisory board of BalancAir.