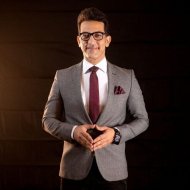 Amr Hassan
| | |
| --- | --- |
| Institution: | Kasr Al Ainy Hospital, Cairo University |
| Country: | Egypt |
Biography
Dr Amr Hassan received his degree in MBBCh (Medicine and Surgery) from Cairo University, Egypt in 2001.
He completed his Neurology residency at Kasr Al-Ainy Hospital which is one of the biggest hospitals in the Middle east and North Africa. He obtained his Master degree in Neuropsychiatry in 2007 and completed his Doctoral degree in 2010 at Cairo University, Egypt.
Currently Dr Hassan is a Consultant and Professor of Neurology at Kasr Al Ainy Hospital, Cairo University.
He is a Fellow of the European Board of Neurology since 2016 and a board member of Headache chapter of the Egyptian Society of Neurology. He is also a board member of the Council of Egyptian Fellowship of Neurology and head of its training committee.
Dr Hassan has authored and co-authored many peer-reviewed articles in headache in adults and children.
Disclosures
Employment: Cairo University
Society Leadership/Board position: Board member-Headache Chapter of the Egyptian Society of Neurology
Honoraria for lectures/ presentations: Novartis, Allergan, Merck, Biologix, Janssen, Roche, Sanofi Genzyme, Bayer, Hikma Pharma, Al Andalus, Chemipharm,  Inspire Pharma, Future Pharma and Habib Scientific Office, and Everpharma
Support for attending meetings, congresses, symposia and/or travel: Novartis, Allergan, Merck, Biologix, Roche, Sanofi Genzyme, Bayer, Hikma Pharma, Chemipharm, and  Al Andalus
Advisory board: Novartis, Sanofi Genzyme, Biologix, Merck,  Hikma Pharma, Janssen, Inspire Pharma, Future Pharma, Elixir pharma
Relationship with scientific journals: Reviewer for many scientific journals