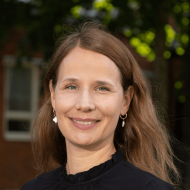 Andrea Carmine Belin
| | |
| --- | --- |
| Institution: | Karolinska Institutet, Stockholm |
| City: | Stockholm |
| Country: | Sweden |
Biography
Dr Carmine Belin is a senior researcher and group leader at the department of neuroscience, Karolinska Institutet. Her research team focuses on cluster headache by identifying genetics factors and characterizing the link to circadian rhythm.
Dr Carmine Belin defended her thesis on the role of genes in Parkinson disease and Schizophrenia at Karolinska Institutet and she became an Associate Professor in neuroscience in 2011. She is part of the Swedish Headache Society board, a member of the International Headache Genetics Consortium (IHGC) and has been part of establishing the International Consortium for Cluster Headache Genetics (CCG).
Dr Carmine Belin is an editorial board members of the journal Brain Sciences and has been the guest editor of two special issues entitled "Recent Advances and New Insights in Cluster Headache" respectively "Genetic Aspects of Primary Headache".
Dr Carmine Belin has authored more than 80 peer-reviewed publications in the field of neuroscience.
Disclosures
Employment: Karolinska Institutet
Society Leadership or Board position: Board member and Treasurer Swedish Headache Society; Director and Chair Centre for Cluster Headache, Karolinska Institute; Board member and Chair International Consortium for Cluster Headache Genetics
Membership of professional bodies: Genetic Epidemiology of Parkinson's Disease; International Headache Genetics Consortium; International Consortium for Cluster Headache Genetics
Personal fees: Novartis, Teva, Lundbeck, Folkuniversitetet
Research support: to institution Swedish Brain Foundation; Mellby Gård Foundation; Karolinska Institutet Research Funds; ALF funding
Relationship with scientific journals: Editorial Board Brain Sciences (Molecular and Cellular Neuroscience section)
Commercial interests: None