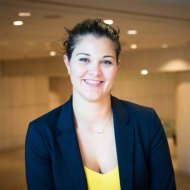 Anna Andreou
| | |
| --- | --- |
| Institution: | Headache Centre, Guy's and St Thomas' NHS Foundation Trust and Wolfson CARD, Institute of Psychiatry, Psychology & Neuroscience |
| City: | London |
| Country: | UK |
Biography
Anna Andreou completed her PhD in Neurological Sciences and Migraine at the Institute of Neurology-Queen Square, where she investigated the therapeutic potentials of novel pharmacological innervations in migraine treatment. She then moved to the University of California San Francisco, where she focused her research on the investigation of brain networks involved in headaches pathophysiology and the effectiveness of neurostimulation in migraine. Anna obtained her first fellowship in headaches at Imperial College London and currently she is Senior Fellow of the Medical Research Foundation based at the Wolfson CARD. She is the director of headache research at King's College London and of the Headache Centre, where she serves as a Consultant headache and pain clinical scientist.
Since the completion of her PhD, Anna received a number of awards including the Thomas E. Heftler Migraine Research Award by the American Headache Society, the Early Research Career Grant by the International Association for the Study of Pain and the Headache Research Excellence award from the International Headache Society. She is also a co-recipient of the Enrico Greppi Award in 2010, and she received twice the European Headache Migraine Trust International Congress New Scientist Lecture and the American Headache Society "Frontiers in Headache Research" Scholarship Awards.
Anna's research interests are focused on the neurobiology of headache disorders, and factors influencing the development and evolution of these conditions. Her research focus also expands to the investigation and development of new therapeutic targets for the acute and preventive treatment of migraine and of trigeminal autonomic cephalagias and facial pain. She is an active member of several research consortia.
Anna served as the Chair of the Trainees and Residents SIG (now Juniors Group) of the International Headache Society and Chair of the IHS Communications committee for four years.​
Disclosures
Consultant/speaker honoraria/sponsorships: Allergan, Eli Lilly, eNeura, TEVA, Autonomic Technologies, Novartis, Zenith Scientific