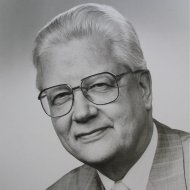 Biography
Eero Hokkanen was born in Hämeenlinna Finland in 1931. He first enrolled to study law but soon changed into medicine, graduating from the University of Helsinki in 1958. Postgraduate studies and training in neurology took place at the Helsinki University Central Hospital as well as London University, Institute of Neurology (at Queen Square) in UK. In 1964 Professor Hokkanen finished his specialist degree (state examination in Finland) in neurology. He completed his PhD on neurology for the Doctorate in Medical Sciences in 1969. Later he completed degrees also in healthcare administration in 1979, neurogeriatrics (subspeciality of neurology) in 1984, as well as geriatrics (independent speciality) in 1985.
Eero Hokkanen held senior positions in neurology at the Department of Neurology of the Helsinki University Central Hospital during 1965-1969. In 1970 he was elected Professor of Neurology and Head of the University Department of Neurology, University of Oulu, in northern Finland. There he stayed for 17 years during which he also acted as the Leading Chief Physician of the Oulu University Hospital from 1976-1981.
In 1987 Professor Hokkanen was appointed as the Director of the Department of Hospital Care at the National Board of Health, an agency directly under the Ministry of Social Affairs and Health in Helsinki.  After this in 1991 Hokkanen started working as the Deputy Director General of the National Agency for Welfare and Health and the Director of its Welfare and Health Services Department and in 1992 he became the Deputy Director General at the Ministry of Social Affairs and Health (working especially for its Department for Social and Health Services). At the end of 1994 he retired.
Professor Hokkanen´s research from 1964 onwards was first focused on neuromuscular diseases (thesis in 1969). Very soon the main focus became directed to the many problems of headaches and especially migraine and in 1969 he was the promoter in founding the Finnish Migraine Society in Helsinki. He attended the first Scandinavian meeting on migraine held in Copenhagen in 1969, and next year the Finnish Migraine Society became full member of the Scandinavian Migraine Society. In the Finnish Migraine Society he served as Secretary from 1970-1973 and Chairman from 1973-1994, and in the Scandinavian Migraine Society as board member from 1970-1994 and as President from 1975-1976, 1981-1983 and 199-1991. In June 1976 a very successful joint meeting of the Italian Headache Society (with F Sicuteri as President) and the Scandinavian Migraine Society (E Hokkanen as President) was arranged in Florence, Italy.
Eero Hokkanen was also a very active member of the WFN Research Group on Migraine and Headache during the years 1984-1994. He became the Board Member of the new International Headache Society in 1982 and during its first Congress in Munich 1983 Professor Hokkanen was elected for the Presidency of IHS. He served as the President from 1983-1985 and as a member of  the Executive Committee from 1983-1987. During 1983-1985 the new Constitution of the International Headache Society was discussed, prepared, approved, and finally signed by the Eero Hokkanen as IHS President and the IHS General Secretary, Volker Pfaffenrath. During 1991-1993 he was also a Board Member of the new European Headache Federation. In 1997 Professor Hokkanen became an honorary member of IHS.
Throughout his career Eero Hokkanen has also been active in the World Federation of Neurology (WFN). He was a member of the Council of National Delegates from 1975-1981, and a member of the Research Group of Migraine and Headaches from 1984-1994. He was also Chairman of the FN Nomination Committee during two consecutive 4-years periods, from 1989-1993 and 1993-1997. Following that he was elected as a member of the Steering Committee from 1998-2001.
After having been appointed to work within the agencies of Ministry of Social Affairs and Health in 1987, Professor Hokkanen´s focus of interest broadened into national health problems. He became engaged in working in high positions of trust in numerous national and regional committees and working groups within healthcare and welfare in Finland, appointed by the State Council of Finland, various ministries and governmental central offices, various universities, etc. Even after his retirement, Professor Hokkanen continued his international activities, authorised by the Ministry of Social Affairs and Health, enhancing and co-ordinating the co-operation in science and technology within the field of health and welfare between Japan and Finland from 1989-1995, and between P.R. China and Finland from 1993-1998. Many of these projects involved questions concerning the health of aging populations, where Professor Hokkanen´s expertise in neurology and geriatrics proved valuable.