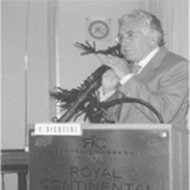 Biography
Born of Tuscan parents in Borgo San Lorenzo, a small town near Florence located in the marvellous pastoral landscape of Mugello, he graduated in Medicine with honours at Florence University.
As a bright young clinician of the Institute of Internal Medicine of Florence University, directed by Professor Enrico Greppi, he started his University career. He found his lifework when in the early 1950s Professor Greppi decided to found a Headache Centre to help the multitude of headache sufferers that he usually called 'orphan patients'. In 1954 Professor Sicuteri, when still young, became Director of the first active Headache Centre in Europe. In a few years his enthusiasm and ability attracted a small cluster of young coworkers to start the fascinating exploration into headache. A few years later Federigo Sicuteri and his group were known throughout the world for their contributions in the field of headaches; his interests included basic pathophysiology, clinical pharmacology and clinical research. He published many hundreds of papers in the most learned international journals. Serotonin in the central headache theory was the leif-motif of his research. What is the source of pain in migraine and other primary headaches? He gave a Copernican answer to this question: the origin of headaches is not peripheral but central and it is due to a deficiency of brain serotonin. Based on this concept, he considered therapeutic mechanisms of ergotamine and methysergide as serotonin agents in the central nervous system (long before the triptans).
Professor Sicuteri organised in Florence the World Congresses 'Headache 80' and 'Florence Headache 87' that reflected the phases during which headache acquired a modern base and a multidisciplinary community capable of working to bring relief to patients.
International highlights among his many honours include numerous awards: in particular the 'Harold. G Wolff Award' and the 'Enrico Greppi Award' which he won twice. He was on the editorial board of several learned international journals.
He was at first a full Professor of Clinical Pharmacology and then of Internal Medicine, Chief of the Department of Clinical Pharmacology and Medical Pathology, and finally was honoured as Emeritus Professor of Internal Medicine of Florence University. He also held many prestigious positions: in 1976 he founded the Italian Headache Society for the Study of Headache, of which he was twice President and then Honorary President. He was also a member of the Steering Committee of the International Headache Society and became President of that Society in the years 1991-1993.
I am proud to represent colleagues from around the world and the whole headache community to honour Professor Federigo Sicuteri, a headache medicine pioneer. Personally, and together with old and young Florentine team members, I thank him for giving me the opportunity to explore the complexity of headache patients and their needs.
In memoriam: M Fanciullacci