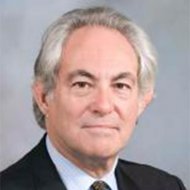 K Michael Welch
| | |
| --- | --- |
| Institution: | Rosalind Franklin University of Medicine and Science, Chicago, IL |
| Country: | USA |
Biography
On December 2, 2002, Dr K Michael Welch assumed the presidency of Rosalind Franklin University of Medicine and Science. Dr Welch is a neurologist and world-renowned researcher whose career has focused on the study of brain function and structure in cerebrovascular disease, stroke and migraine.
Dr Welch earned his medical degree at the University of Bristol School of Medicine, United Kingdom and came to the United States in the early 1970s. He held several positions at Baylor College of Medicine (Houston, Texas) including Chief of Neurology at the Ben Taub Hospital before relocating to Michigan in 1981 to become the founding chair of the Department of Neurology at Henry Ford Hospital (HFH), now the Henry Ford Hospital and Health Sciences Center which, as vice president for Academic Affairs, he founded and was instrumental to negotiations that culminated in its academic affiliation with Case Western Reserve University.
Also at HFH, Dr Welch was director of the NMR Research Center, the Principal Investigator of two NIH-funded centres for stroke and headache research, and the clinician responsible for the overall conduct of the NINDS tissue plasminogen study (the first to establish effectiveness of thrombolysis in acute stroke). He also became the Principal Investigator of the SPARCL trial, the first to establish statin treatment for secondary stroke prevention.
In 1999 Dr Welch served as Vice Chancellor for Research at the University of Kansas Medical Center and President, Research Institute. He also established the Hoglund Brain Imaging Center at KU and initiated construction of a new sixty million dollar basic science building funded by the Kansas legislature.
Dr Welch continues to serve NIH as chair of several oversight committees for clinical trials. He has served as Clinical Professor at the University of Michigan, Professor of Neurology at Case Western Reserve University, and as Adjunct Professor at Oakland University and the University of New Mexico.
Since becoming President of Rosalind Franklin University in 2002, Dr Welch renamed the University and successfully implemented a full institutional assessment that launched a new mission and vision for the university, integrating the education of all health professions with the goal of enhanced delivery of health care into a model of interprofessional education. In 2012 Dr Welch established an Alliance for Health Sciences with DePaul University.
In July 2006, Dr Welch received an honorary Doctorate of Medicine Degree from his alma mater, the University of Bristol.