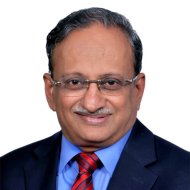 Biography
Dr Ravishankar MD is Consultant in-charge of The Headache and Migraine Clinics at Jaslok Hospital and Lilavati Hospital in Mumbai, India
He has trained in 'Headache Management' first with Dr Ninan Mathew at The Houston Headache Clinic and later with Dr J N Blau at The City of London Migraine Clinic
Dr Ravishankar has been a member on The Board of Trustees of the International Headache Society from 2008 to 2011, he is a Founder Member of The Asian Headache Foundation and is also a member of The American Headache Society. At The International Headache Congress, 2013 in Boston, he received the Special Recognition Award from the International Headache Society and was also conferred an Honorary Life Membership. In 2021 he took over as Chair of the Asian Regional Consortium for Headache (ARCH).
He is on the Editorial Board of Headache Currents and is a reviewer for 'Cephalalgia', 'Neurology India' and 'Annals of The Indian Academy of Neurology'. He has been the Convenor of the Headache Subsection of The Indian Academy of Neurology from 2003 to 2013.
Dr Ravishankar has been an invited speaker at national and international platforms and has published many articles, has contributed to 10 book chapters and is actively involved in teaching 'Headache Medicine' across India. He was also on the Faculty of the IHS Master School in Brazil. He is now into exclusive Headache practice in Mumbai, India.
Disclosures
Professional membership: Indian Academy of Neurology