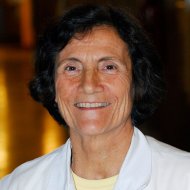 Biography
Marie-Germaine Bousser is Professor of Neurology at Paris Diderot University in France and  former head of Neurology Department in Lariboisière Hospital in Paris.
She has been one of the founding members of the European Stroke Conference (1990) and the President and founder of the French Stroke Society (1996-1998). She has also been  President of the French Headache Society (1995-1998) and of the International Headache Society (1995-1997).
After a thesis devoted to the prevention of cerebral artery thrombosis in the rabbit by aspirin and prostaglandin E1, Professor Bousser's research  has been clinically orientated and has mainly dealt with vascular neurology and migraine about which  she wrote over 400 papers and 8 books , with the following six main topics of interest:
1- Stroke prevention : she was the principal investigator of  the French AICLA Study (1983) , the second ever trial to demonstrate the efficacy of aspirin in secondary  stroke prevention and she was member of executive committees of many stroke  prevention trials (CAPRIE, ECST, PROGRESS, AMADEUS, PERFORM...)
2- CADASIL, which she identified in 1993 in a single French family in collaboration with her co-worker geneticist Pr E. Tournier-Lasserve , and which is now known to affect over 600 families worldwide. This has been a major breakthrough in the understanding of small arteries diseases of the brain and of vascular dementia.
3- Cerebral venous thrombosis : based on a personal series of 450 patients, Pr Bousser has written many papers and a book on various aspects of CVT presentation , diagnosis and treatment.. She is one of the coordinators of the ISCVT registry.
4- Migraine and stroke : her team showed that migraine with aura is a risk factor for cerebral infarction in young women, particularly if they smoke or use oral contraceptives.
5- Cervical artery dissections: she wrote over 20 papers on dissections and showed for the first time a statistical association between migraine and dissections.
6- Familial hemiplegic migraine : Her group demonstrated the first location (on chromosome 19) of one the FHM genes, found a second gene location (on chromosome 1) and studied the phenotype-genotype correlations associated with mutations in FHM1 gene
To recognize her achievements in stroke research, Professor Bousser was awarded the 2008 Johann Jakob Wepfer Prize given by the European Stroke Conference.