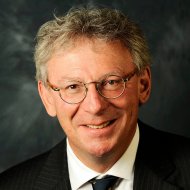 Michel D Ferrari
| | |
| --- | --- |
| Institution: | Leiden University Medical Centre |
| Country: | Netherlands |
Biography
Michel D Ferrari, MD, PhD, is Professor of Neurology and Chair of the Leiden Centre for Translational Neuroscience at Leiden University Medical Centre (LUMC).
He received his MD in 1980, his specialty certificates in Neurology and Clinical Neurophysiology in 1985, and his Ph.D. on "Serotonin and Migraine" in 1992 cum laude from LUMC (supervisors Profs. GW Bruyn & PR Saxena). He was a Research Fellow at Baylor College of Medicine, Houston with Professor KMA Welch, and at Harvard Medical School with Professor MA Moskowitz.
Michel Ferrari is a corresponding member of the American Neurological Association, Honorary Member of IHS and the Italian Headache Society, and has received numerous awards including the Arnold Friedman Distinguished Clinician Researcher (1995) and the Harold G Wolff (1997) Awards from the American Headache Society, the Migraine Trust (2002), the European Headache Federation (2006), and the IHS Special (2009) Lectures, and the three-annually Hartmann Muller Prize for Biomedical Research from the University of Zurich (2011). In 2005 the Dutch Neurological Association awarded him with the five-annually Winkler Medallion for Excellence in Neurological Research and in 2004 The Netherlands Organisation for Scientific Research (NWO) gave him the prestigious Vci Innovational Research Personal Incentive Schema Award and in 2009 the Spinoza Life Time Achievement Premium, the highest science prize in The Netherlands, also known as the Dutch Nobel prize.
Michel Ferrari is the PI of several international consortia, including the FP6 EUROHEAD programme, in which nine European centres collaborate to decipher the molecular neurobiology of migraine. He serves on executive and scientific boards of many scientific organisations, is associate editor of Cephalalgia, Eur J Neurology and Headache Currents, and is a regular reviewer for many prestigious scientific journals. He has organised several congresses, including the 1997 IHS World Congress in Amsterdam, and has authored many books and over 425 peer-reviewed publications on the neurobiological, genetic, and clinical aspects of migraine, cluster headache syndromes, ataxia, and epilepsy. He ranks among the top three most cited scientists on 'Migraine and Other Vascular Headaches'. His paper on the first migraine gene (Cell 1996) is the highest cited paper in the field.