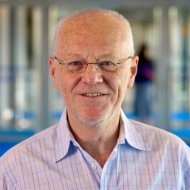 Peter J Goadsby
| | |
| --- | --- |
| Institution: | NIHR-Wellcome Trust King's Clinical Research Facility, King's College London |
| Country: | UK |
Biography
Peter Goadsby obtained his medical degree and training at the University of New South Wales (UNSW), Australia. Neurology training was with James W. Lance and clinical neurophysiology with David Burke. After post-doctoral work in New York with Don Reis at Cornell, Jacques Seylaz at Universite VII, Paris, and post-graduate neurology training at Queen Square, London with C David Marsden, Andrew Lees, Anita Harding and W Ian McDonald, he returned to UNSW, and the Prince of Wales Hospital, Sydney as a consultant neurologist and became an Associate Professor of Neurology. He was appointed a Wellcome Senior Research Fellow at the Institute of Neurology, University College London in 1995. He was Professor of Clinical Neurology and Honorary Consultant Neurologist at the National Hospital for Neurology and Neurosurgery, Queen Square, London until 2007.
He has been Professor of Neurology, Department of Neurology, University of California, San Francisco since 2007. He has been an Honorary Consultant Neurologist at the Hospital for Sick Children, Great Ormond St, London since 1998.
In 2013 he was appointed Director, NIHR-Wellcome Trust King's Clinical Research Facility, King's College Hospital, Professor of Neurology at King's College London and Honorary Consultant Neurologist, King's College Hospital.
His major research interests are in the basic mechanisms of primary headache disorders, such as migraine and cluster headache, in both experimental and clinical settings, and translating these insights into better management.
Disclosures
Employment: King's College London, UK, and UCLA, Los Angeles, CA, USA
Society Leadership/Board position: President-American Headache Society to June 2022
Professional membership: RACP, RCP, ABN, ANZHS, AAN, SfN, ANZAN
Personal fees: Amgen, Eli-Lilly and Company, Acon  Biopharma, Allergan, Biohaven Pharmaceuticals Inc., Clexio, Electrocore LLC, eNeura, Epalex, GlaxoSmithKline, Impel Neuropharma, Lundbeck, Novartis, Pfizer, Praxis, Sanofi, Santara Therapeutics, Satsuma, and Teva Pharmaceuticals, and personal fees for advice through Gerson Lehrman Group and Guidepoint, fees for educational materials from Massachusetts Medical Society, Medery, Medlink, PrimeEd, UptoDate, WebMD, and publishing royalties from Oxford University Press, and Wolters Kluwer
Research support: Grants from Amgen, Eli-Lilly and Company, and Celgene paid to King's College London
Patents: Magnetic stimulation for headache (No. WO2016090333 A1) assigned to eNeura without fee
Advisory Board: MOTS and Aeon Biopharma
Clinical trials involvement: Atogepant, eptinezumab
Relationship with scientific journals: Editorial Board:
Annals of Neurology Brain (Associate Editor), Neurology, Acta Neurologica Belgica, Acta Neurologica Scandinavica, Clin Neurol Neurosurg, Current Opinion in CPNS Drugs, European Journal of Neurology, European Neurology,  European Neurological Review, Frontiers in Neurology, Neuromodulation, Therap Adv in Neurol Disorders, SN Comprehensive Clinical Medicine, Progress in Neurotherapeutics and Neuropsychopharmacology, US Neurology; Ad hoc reviewer (2018-2021): Annals of Neurology, Brain Research, British J Pharmacol, Br Med Journal, BMC Neurology, CNS Drugs, Eur J Pharmacol, Headache, Journal of Pain