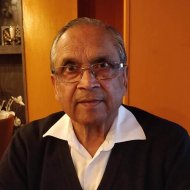 Biography
Education and Work Affiliation
After graduation in medicine (1962), I obtained doctorate degree in Pharmacology with Honours (1965), both from the King George's Medical College, Lucknow, India. After Lectureship in Pharmacology (1965-66) and working as Family Physician (1962-1966), I joined the Dutch pharmaceutical company Organon in 1966. Four years later, I moved to Medical Faculty Rotterdam (now Erasmus Medical Center), where I was Professor and Chairman of Pharmacology (1970-2004) and Vice Dean, Faculty of Medicine and Health Sciences (1988-1991). In 1988, I started Erasmus Pharma, and served as its Managing Director (1998-2005) and Chairman Supervisory Board (2005-2019).
Contributions to Headache Science
At Organon, my primary task was to predict from preclinical experiments if mianserin, a 5-HT antagonist like methysergide, would be effective in migraine. I decided therefore to investigate effects of these compounds as well as of ketanserin and cyproheptadine, on vasoconstriction elicited by 5-HT in the canine carotid vascular bed. Surprisingly, none of them attenuated 5-HT-induced vasoconstriction; methysergide even mimicked the action of 5-HT via what I called 'Atypical' 5-HT receptors. Ergotamine was found to elicited a very selective carotid vasoconstrictor action (Harold G Wolff Prize). My conclusion at Organon was that mianserin would not be effective in migraine, and one should in fact look for agonists at this 'Atypical' 5-HT (later named 5-HT1B) receptor for antimigraine efficacy. Organon did not take this suggestion and, in the mean time, I moved to Rotterdam.
At the Migraine Trust meeting in 1969, it was my privilege to listen to Professor Heyck, who advocated that migraine headache results from opening of carotid arteriovenous anastomoses (AVAs). Using radioactive microspheres, measurement of carotid AVA blood flow was incorporated in our experiments and we showed that 5-HT reduced AVA-blood flow, but concurrently increased capillary blood flow; methysergide and ergotamine selectively decreased AVA flow. Thus, it became apparent that 5-HT1B receptor agonists would be effective in migraine, and one may use our animal model for this purpose.
At this juncture, Pat Humphrey (GSK) contacted me to investigate novel triptamine analogues in our 'migraine model'. I do not know which particular analogues were investigated in my lab, but Pat was happy to note that his compounds decreased carotid blood flow by selectively constricting AVAs. A couple of their early compounds were
clinically successful in aborting migraine attacks.        Further optimisation resulted in
sumatriptan, which was marketed in 1991. Given the grand success of sumatriptan in treating migraine attacks, other pharmaceutical companies soon started research activity in this area and more 'triptans' followed. Almost all of these triptans were evaluated in our lab for 'migraine efficacy' as well as for potential cardiovascular liability.
Awards and Recognitions
"Highly Cited Researcher" : American Society for Information Science & Technology Harold G. Wolff Prize (1973) and John Graham Senior Clinician Award (1996): American Headache Association
Marcia Wilkinson Lecture (1998) and Honorary Membership (2004): Anglo-Dutch Migraine Association
Life-time Achievement Award (2001): Headache Cooperative of New England
Irvine Page Lecture (2002) and Honorary Membership (2004): International Society for
Serotonin Research
Migraine Trust Lecture (2004)
"Prof. Dr. P.R. Saxena prize" instituted by the Dutch Headache Society (2004)
Office bearer Dutch Pharmacology Society (Chairman), Dutch Headache Society (Vice-
president), Anglo-Dutch Migraine Association (Vice-President), European Headache
Federation (President), International Society for Serotonin Research (President)