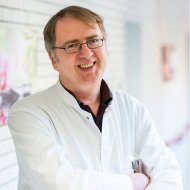 Stefan Evers
Institution:
University of Münster and Krankenhaus Lindenbrunn
Biography
Stefan Evers received his MD in medicine and his PhD in musicology at the University of Münster, Germany. After training in general neurology including 1 year of research at the Institute of Neurology, London, he became consultant and Professor of Neurology at the Department of Neurology, University of Münster. In 2012 he became Head of the Neurological Hospital "Lindenbrunn".
Stefan Evers was President of the German Migraine and Headache Society from 2003 to 2007 and Chair of the Headache Panel of the European Federation of Neurological Societies from 2003 to 2010. Since 2015 he is Chair of the Headache Panel of the European Academy of Neurology. Since 2011 he has been Honorary General Secretary of the IHS.
He has published more than 220 scientific papers and several book chapters and books on headache and migraine, pain research, and general clinical neurology. Besides pain, special fields of interest are epilepsy, stroke, neuromanifestations of HIV infection, and the neurobiology of music.
Disclosures
Honoraria for consulting: Allergan, Reckitt Benckiser, Johnson & Johnson, Lilly, Novartis, TEVA
Speaker's honoraria: Allergan, Reckitt Benckiser, Lilly, Novartis, TEVA