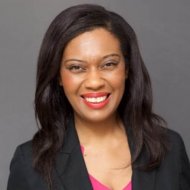 Teshamae Monteith
| | |
| --- | --- |
| Institution: | University of Miami, Miller School of Medicine |
| Country: | USA |
Biography
Dr Teshamae Monteith is an Associate Professor of Clinical Neurology at the University of Miami, Miller School of Medicine. She is the Chief of the Headache Division and the program director for the United Council of Neurologic Subspecialties (UCNS) Headache Medicine fellowship program. Dr. Monteith received a Bachelor of Science degree in Biology at Florida International University prior to obtaining a medical degree at the University of Miami, Miller School of Medicine. She received her Neurology residency training at New York University, and then pursued two fellowships in headache medicine at Thomas Jefferson University and University of California, San Francisco.
Dr Monteith currently serves on the editorial board for the American Migraine Foundation and the American Academy of Neurology's Brain and Life Magazine. She also serves on the Diversity Officers Subcommittee of the American Academy of Neurology (AAN) and the American Neurological Association's Addressing the Pipeline for Academic Neurology Leadership Workgroup. She is the Headache Topic Chair for the 2022 AAN Annual Meeting Scientific Program abstract review process. Previously, she was the founding chair of the New Investigator Trainee (NIT) Section of the American Headache Society (AHS). During her tenure, she developed multiple programs including a Telementoring Series, the First Junior Forum, the NIT Research Tournament, and the NIH Forum. Previously, she also served on the AHS Bylaws and Ad Hoc Education Committees.
Dr Monteith is a recipient of the Public Voices Fellowship- the OpEd project. Her piece illustrating the benefits of technology for migraine, It is Time to Permanently Expand Telemedicine, appeared in US News and World Reports. She is also a co-recipient of the American Academy of Neurology's (AAN) Palatucci Advocacy Leadership Award and the American Headache Society's Wolff award. She received the Florida International Society's Torch Award and the University of Miami, Miller School of Medicine Dean's Diversity Award for her work on racial justice in the medical curriculum and the department's Inclusion, Diversity, Equity, Anti-racism, and Social Justice (IDEAS) committee.
She has lectured both nationally and internationally, authored numerous publications and has provided peer review for both national and international journals. Dr. Monteith has served on several advisory boards for migraine and cluster headache. She has hosted over 80 podcasts for the AAN Neurology Journal/Neurology, Neurology Minute and Continuum Audio for topics important for neurologists including brain health, migraine, cluster headache and secondary headache disorders. Her research interest has been in the cross section of migraine and stroke, funded by the NIH NINDS Research Supplements to Promote Diversity in Health-Related Research. During the pandemic, she became a member of the US National Cohort COVID Collaborative Neurology Clinical Team Domain; her interest includes the investigations of Post-COVID headache, the impact on migraine, and Post-Acute Sequela of COVID19 (Long-COVID).
Disclosures
Employment: University of Miami, Miller School of Medicine Society Leadership/Board position: Podcast host and American Academy of Neurology and Continuum Audio American Academy of Neurology's Diversity Committee, Sections and Subspecialities Subcommittee American Neurological Association IDEAS, President-elect-Florida Society of Neurology Board, American Migraine Foundation Editorial Board
Professional membership: American Headache Society, American Neurological Association, American Academy of Neurology, Florida Society of Neurology
Personal fees: Rockpointe, Academic CME, Neurodiem, Medscape
Research support: Eli Lilly, Amgen/Novartis, Teva, electroCore (all to institution for clinical trial site)
Advisory Board: Teva, Lundbeck, electroCore, Impel, Novartis, LinPharma
Clinical trials involvement: Eli Lilly, Amgen/Novartis, Teva, electroCore (site investigator)
Relationship with scientific journals:
Editor: Frontiers in Pain Research (Topic Editor), Springer Nature
Reviewer: Journal of Oral & Facial Pain and Headache, Pain Medicine Expert Review of Neurotherapeutics, JAMA Neurology, Neurology, Headache Journal, Scientific Reports, Acta Neurologica Belgica, Journal of Neurological Sciences, Clinical Neurology and Neurosurgery, BMJ Open, Clinical Epidemiology, BMC Neurology, Neuropsychiatric Disease and Treatment, Journal of Pain Research, Headache Currents, Journal Watch
Other: Educational grants from Abbvie, Amgen