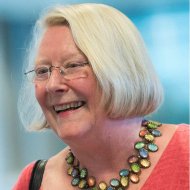 Biography
Wendy Thomas is past Chief Executive of The Migraine Trust, the health and medical research charity for migraine in the United Kingdom. She is also a director and chair of the Migraine Trust International Symposium  Ltd. (appointed by The Migraine Trust),
She is currently Treasurer of the British Association for the Study of Headache (BASH).
Ms Thomas' interests have been in charity governance and in particular the importance of the control of financial aspects of the organisation concerned. She works to ensure that the finances of IHS are on a sound footing and stay that way, and aims to make the finances to be transparent and therefore easy for the non-financial mind to understand.
Disclosures
Society Leadership/Board position: Trustee–The Migraine Trust, Treasurer–British Association for the Study of Headaches, Director–Migraine Trust International Symposium